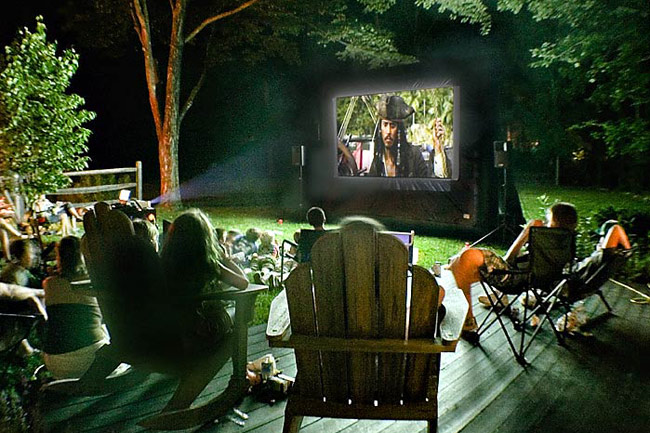 MOVIE MAGIC IN YOUR OWN BACKYARD
All of our Outdoor Movies are complete full service events


BACKYARD CINEMA is a complete, professional outdoor cinema system with a large, state of the art inflatable screen. LET US BRING MOVIE MAGIC TO YOUR NEXT BACKYARD EVENT!
This is perfect for family parties, presentations, instructional videos or just extra fun.

FULL SERVICE: we will provide all of the necessary equipment, set up, show and take down. At least one of our experienced film crew technicians will remain on site through-out the movie. This will help ensure that everything runs as smoothly as possible while you enjoy the show!


---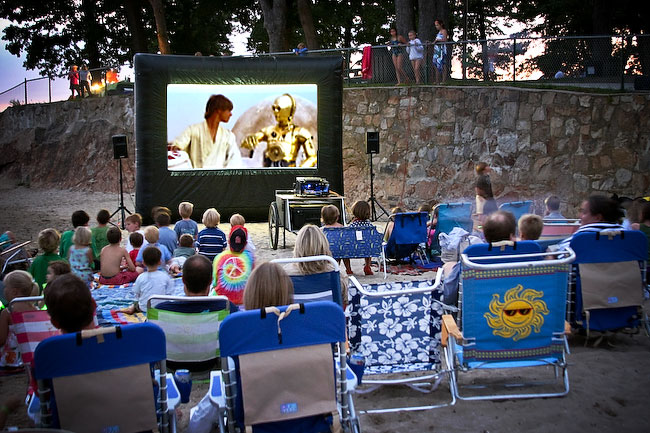 EVENTS: All of our events are "full service" and designed to provide you with a more carefree evening and optimum movie performance. Under most conditions show times can start a little before sunset.

SPECIAL PARTY PACKAGES for the back yard event.

BRONZE: Basic full service, one feature film of your choice. PRICE… $695.00

SILVER: Full service, one feature film of your choice, balloons on mail box, pre-popped popcorn for up to 15 children. PRICE… $775.00

GOLD: Full service, one feature film of your choice, balloons on mailbox, fresh popped popcorn on site by our own "popcorn master". PRICE… $1195.00

PLATINUM: Full service, as many feature films as you wish, complete food catering to suite your palate, balloons, clowns, your heart's desire. PRICE… will vary, contact us to create your perfect evening!


---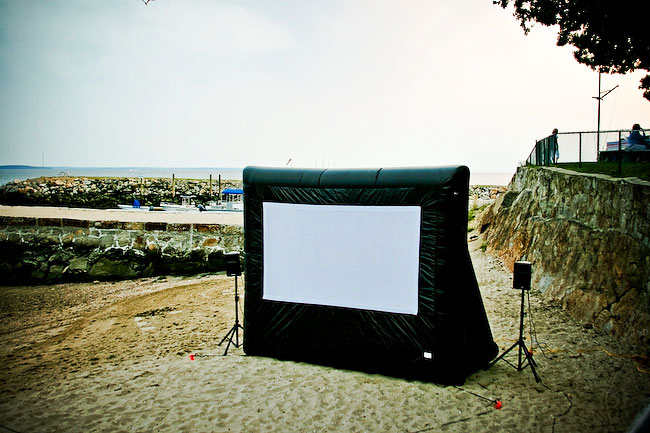 Much more than backyard movies! Usage of our screens can include instructional and educational DVDs perfect for, fundraisers, corporate, club or department events.
Perhaps your own home made films from the past? Just hand us the DVD.

*Our system is also capable of interfacing with the internet, TV, Playstation and X-box.
All events other than the Special Party Packages: Prices start at $225.00 per hour with a three hour minimum. Please contact us for details or to schedule an event for up to 150 people.

PLEASE NOTE: Event start times will vary with amount of sunlight, it must be close to dark. We cannot show movies in the rain unless there is some sort of large, on-site tent or overhead protection. Ambient temperatures must be above 38 degrees. Rain checks are available.
---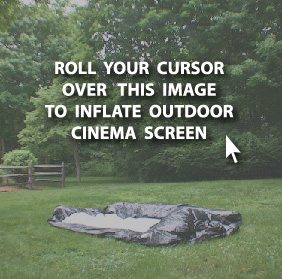 SALES: Allow us to provide you with your own custom design and installation
for a semi-permanent or inflatable outdoor home theatre.
Pricing varies directly with design details and options chosen.
Please contact us to create your wildest dreams...


---